Neva - historier om et skib.
Den Litauiske havarirapport
Andreas Mygind Røpke & Bjørn Andersen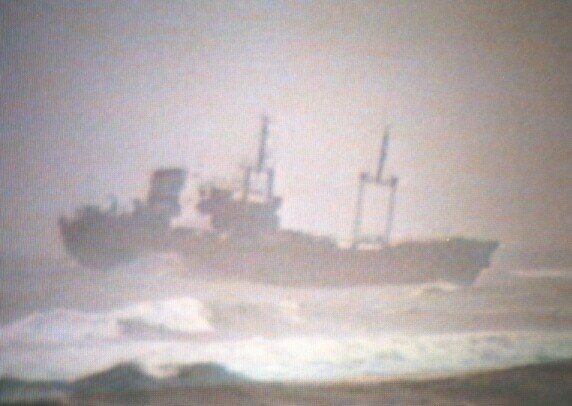 »Neva« tager grunden 12.2.1995


Avisen "Lietuvos zvejys" ("Fiskeren") bragte 13.5.1995 en artikel om »Neva«'s forlis. Artiklen er en slags havarirapport, der oprindelig er skrevet på russisk, men trykt på litauisk. Vi har fået en ufuldstændig fotokopi af artiklen (desværre kan vi ikke kontakte avisen, da den i mellemtiden er gået ind) og har prøvet at oversætte den ved hjælp af lidt "knofedt" og en solid litauisk-engelsk ordbog. Skulle du have bemærkninger til nedenstående, hører vi meget gerne. Send gerne en e-mail til: Andreas & Bjørn (klik)

I artiklen fortælles at »Neva« blev bygget for Rederiet "Jura" ("Havet"), et Sovjetrussisk statsrederi. Da Litauen blev selvstændigt, blev rederiet - og dets skibe - litauiske.

Rederiet - som kort efter gik "på r...." - besluttede at sælge nogle af de ældste skibe til ophugning i Bilbao, Spanien - det drejede sig om »Neva« og 3 - lidt større - fiskefabriksskibe »Aukstaitija«, »Jurbarkas« og »Jonava«. Fabriksskibene var af samme type og var bygget i Stralsund i det daværende DDR i 1974-75.

De fire skibe blev "sat sammen" i to sæt. »Jonava« skulle slæbe »Neva«, mens »Aukstaitija« skulle slæbe »Jurbarkas«. Alexandras Gurkovas var Kaptajn på »Jonava«, Jurias Filenkovas var Førstemester og M. Frolovas Andenmester.

Inden afrejsen forberedte man sig. Man gennemgik maskineriet og man gjorde det nødvendige papirarbejde. 25.1.1995 fik man en tilladelse til at sejle (95.0277.122); »Jonava« skulle være bemandet, »Neva« ikke. Det var en forudsætning for tilladelsen at vindstyrken ikke oversteg 5 på Beaufort-skalaen (8 meter pr. sekund).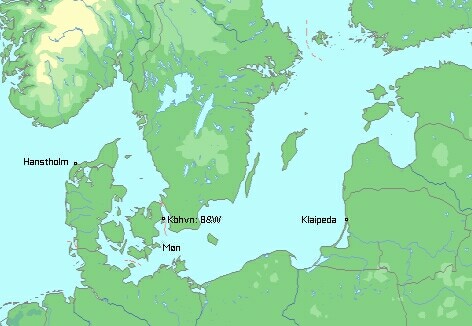 Afstanden mellem København og Klaipeda er i luftlinie knap 540 km. Kort: BA.


Konvojen forlod Klaipeda 5.2. Der var nogen vind, men dog under styrke 5. Vinden tiltog de følgende dage, men man fortsatte rejsen. Efter nogle dage rundede »Jonava« og »Neva« Skagen - på dét tidspunkt var afstanden mellem skibene så stor som 530 m. Den 12. var vinden taget meget til, og »Neva« krængede noget. Man trak »Neva« ind på nogle hundrede meter - men på et tidspunkt, hvor man havde passeret Hanstholm, brast wiren (eller den blev hugget over?), hvorefter »Neva« drev tilbage mod Hanstholm og senere gik på grund ved Kællingdal / Febbersted. Vinden skal have været oppe på styrke 9 (dvs. 20 meter i sekundet eller mere). Bølgehøjden er - ved styrke 9 - omkring 7 meter.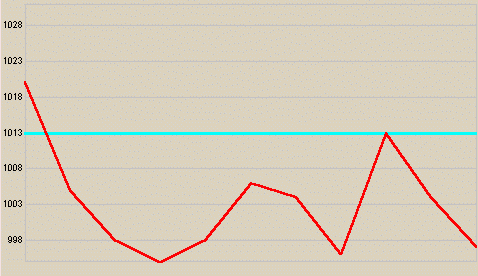 Luftrykket på Samsø hver dag kl. 14.00 fra og med 5.2.1995 til og med 15.2.1995 målt i hektoPascal hPa; "normalen" er 1013 hPa; den 12.2. var lufttrykket 996 hPa og temperaturen 6 grader C, der var 75 % skydække og 0 mm nedbør. Vejret ved Vestkysten kan sagtens have været anderledes - og værre - end ved Samsø. Det fremgår af mundtlige udsagn, avisartikler og videomateriale at der var kraftig vind på det pgl. tidspunkt.


»Aukstaitija« lå noget bagefter, men kunne ikke "bidrage". »Aukstaitija« havde på dét tidspunkt tabt »Jurbarkas« ... et stykke syd for Møn (hvor det senere blev nedsprængt af det Danske Søværn).

Rederiet accepterede kl. 19.30 at »Neva« blev efterladt, og man - eller de litauiske myndigheder - underrettede SOK i Aarhus om hvad der var sket. Man har givetvis taget i betragtning at der var risiko for at »Neva« var sprunget læk eller ville synke, hvis man forsøgte at trække det flot.

Det ser ud som om Kaptajn og Førstemester efterfølgende har haft nogle kraftige meningsudvekslinger. ... Det fremgår ikke - så vidt vi kan se - om »Jonava« nogensinde nåede frem til Bilbao.

Artiklen - eller rapporten - afsluttes med at der placeres et ansvar og der uddeles nogle verbale lussinger. Kaptajn, Førstemester, Andenmester og ikke mindst Rederiets Ledelse kritiseres. Førstemester fordi han ikke håndterede maskineriet på den rigtige måde - og vist nok også fordi han ikke gjorde nok ud af at overbevise Kaptajnen. Kaptajnen fordi han ikke tog tilstrækkeligt hensyn til vejret - og fordi han ikke lyttede omhyggeligt nok på Førstemester. Ledelsen fordi man ikke var tilstrækkeligt omhyggelige og derfor ikke tog de nødvendige forholdsregler.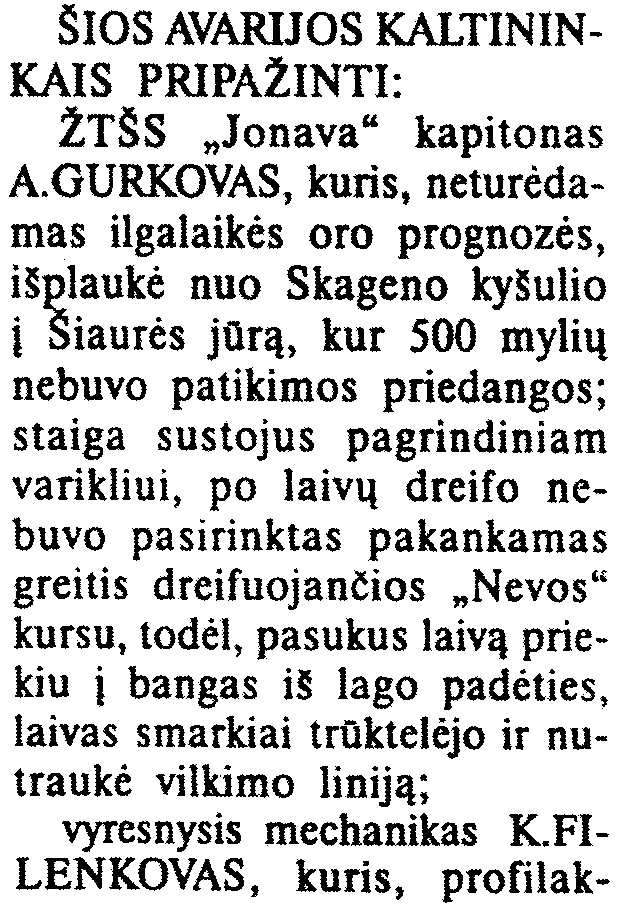 -

-



1' og 2' klip hænger sammen, men der er desværre et "lufthul" mellem 2' og 3' klip.



The wreck of the »Neva«
The Lithuanian newspaper "Lietuvos zvejys" ('The Fisherman') issued an article about the wreck of »Neva« May 13th 1995. The article - that is some sort of an official report - describes in detail the last voyage of »Neva«. It analyses what happened - and it tells who is to be blamed. Originally the report was written in Russian, but it was issued in a Lithiuanian translation in the newspaper.

The »Neva« was built for the "Jura" - the former Sovietrussian Shipping Company in Klaipeda - at the Burmeister & Wain Shipyard in Copenhagen i 1959. "Jura" was made over to Lithuania a short while after the independence in the early 1990's.

The managers of the "Jura" decided to scrap some of the older ships and among those were the refrigeratorship »Neva« and three factorytrawlers: the »Aukstaitija«, the »Jurbarkas« and the »Jonava« - all of the same class and all built in 1974-75 in Stralsund in the former DDR.

In the beginning of 1995 the "Jura" Company succeded in selling the ships for scrap in Bilbao, Spain, and India, and therefore the ships were taken together in a convoy in February 1995. One of the ships had to have one the others in tow, and the »Neva« was to be taken away by the »Jonava«, a bigger ship with a more powerful machinery. The "Jonana" had to deliver the »Neva« in Bilbao and then to proceed to India [?]. Alexandras Gurkovas was the captain, Jurias Filenkovas the first engineer and M. Frolovas the second.

Before the departure some preparing was to be done. The voyage was planned, the machinery was inspected, and some necessary paperwork was done too. January 25th a certificate (95.0277.122) was issued, according to which the »Jonava« was permitted to pull the »Neva« to Bilbao (the »Neva« without crew), but only as long as the wind force was below 5 (Beaufort).

It was estimated that the convoy could speed at a rate of 7 nautical miles per hour (the maximum speed of the »Jonava« was 15 miles per hour) . Furthermore that a steel cable of 33 mm in diameter was needed for the pulling.

February 5th the convoy left Klaipeda. Some wind was to be expected according to the weather forecast, but possibly below the limit of force 5. The wind force raised much in the following days, nevertheless, it was decided to continue the voyage with some stops in a smooth sea and to pull the »Neva« in to 150 meters.

After some days the »Jonava« and the »Neva« passed the Kattegat and rounded the Skagen. The wind was strong, and the distance to the »Neva« was extended to about 530 meters. Sunday the 12th [11th according to the article, which we don't understand since the shipwreck was Febrary 12th in the afternoon] the wind force increased very much, the atmospheric pressure abated rapidly - and the visibility was heavily reduced in a very short while.

The »Neva« was heeling, and it was decided to pull it in to some hundred meters. Unfortunately, some obstacles were met, and at last - in the afternoon - it was necessary to cut off the wire [cut off?]. Then the »Neva« drifted back towards Hanstholm.

The »Aukstaitija« - lacking a little behind the »Jonava« - could not do anything [at that time it had lost the "Jurbarkas - which is not mentioned in the article] since the wind force was about 28 meters per second and some 9 "marks" were measured (Beaufort).

The shipping company accepted by radio at 19.30 that the »Jonava« left the »Neva« behind. Possibly it was taken into consideration that the »Neva« easily could leak if it was attempted to pull if off the bank.

The »Jonava« had had some problems in the machinery since leaving the Kattegat - and these problems increased heavily in the days following. The atmosphere on board was very tense, and the captain and the first engineer had troublesome arguments of what to be done [?].

The report is quite definite about the responsibilities. The captain, the first engineer, the second engineer and the managers of the "Jura" are all to be blamed. The captain because he did not pay heed to the weather forecasts and to the notions of the first engineer. The first engineer because he did not handle the machinery accordingly and because he did not succeed in persuading the captain. The managers because they were careless and did not take the necessary precautions.


If you have any comments or suggestions to the summary, please send them to Andreas Mygind Ropke & Bjorn Andersen (click the names)


Back / Tilbage til forsiden